Private Calligraphy/Lettering Workshops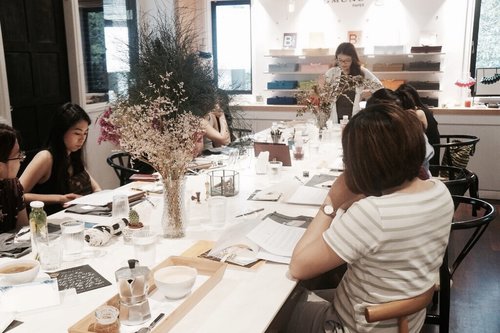 Private Calligraphy/Lettering Workshops
DESCRIPTION
Private workshops are best suited for individuals/groups that has an intended purpose for learning calligraphy or lettering. I.e.:
(1) Professional 1 on 1 study with our artist
(2) A bespoke activity for private parties - Hens Party, birthday party etc.
(3) Casual group learning with several friends/colleagues
SUITABLE FOR ALL LEVELS
DETAILS
Location: Your own location, or we can make arrangements for one.
Duration: Custom (ranges from 2-4 hours per session )
Dates: Available on weekdays and weekends.
Teacher: Any teacher on our Scribblers Collective team (do specify if you have a particular preference!)
Fee & Budget: Do let us know your budget as price ranges depending on required content and number of lessons required.
WORKSHOP CONTENT
View some of our ready-designed workshops for reference content - From Beginners calligraphy/lettering to Intermediate Calligraphy/Lettering. Otherwise, we are able to customise the content for your private sessions/level of proficiency. I.e. Chalkboard lettering retreat for cafe team, Modern Calligraphy with focus on card-making, Prepping for your wedding: Calligraphy edition.
DATES (2018)
Feb - Fully booked
March - Last slot
April - Open
May - Open
June - Open
MATERIALS (Take-home)
Please refer to our introductory and intermediate workshops to get a feel of the type of materials we normally provide our students. We are happy to customise the material list to your event/party/requirements or provide materials on a in-house use basis.